Home >> Admin.Site-Helper.com >> Edit User, Reseller, or Admin Passwords
---
Changing User, Reseller, or Admin Passwords
From the main Administrator menu, click the "Edit User, Reseller, or Admin Passwords" link. You will see a page that looks like this: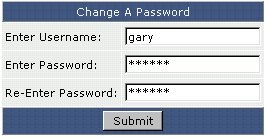 Type in the name of the User/Reseller/Admin, enter a new password twice, and click the "Submit" button.
Note:
This changes the password for the control panel login and primary e-mail account login only. The User's main FTP account has to be changed manually through the User panel (FTP Accounts menu).
Need more help?
Please contact your hosting company for more assistance, or visit the DirectAdmin support forum at https://forum.directadmin.com.
---